EATON VICKERS HYDRAULIC COMPONENTS
AxisPro™ KBH*-8 10 Series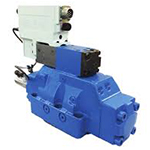 Built on the proven KB Servo Proportional Valve technology, Eaton's next generation proportional valve provides two levels of performance in a two stage modular design. These four-way solenoid operated proportional valves offer high dynamic performance which enables them to be used in closed loop applications previously only possible using conventional servo valves. KBH
Eaton DuraForce® Pumps, Motors and Valve
DuraForce pumps, motors and valves are the heart of your hydraulic system. Engineered for precision and power.
Consistent, accurate power delivery helps operators get the job done faster.
Efficient performance at peak pressures of 500 bar can meet the high-pressure needs of virtually any application.
External Gear Pump GD5 Series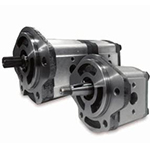 GD5 Gear pump is a floating bushing, pressure balanced design with a high strength extruded Aluminum Body, Aluminium or Cast Iron End Cover & Cast Iron Mounting Flange.
Eaton DuraForce® Pumps, Motors and Valve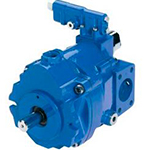 Eaton M Series pumps are open circuit, axial piston designs. A variety of control options allows the pumps to perform most efficiently in a specific application. Efficiency of the pump controls allows down-sizing of system cooling needs, saving up front cost in the machine. Alternatively, cooling capacity could be kept the same and the flow capability of the system increased, thus improving performance and customer satisfaction.