Eaton Aeroquip triple crown hose

TRIPLE CROWN
Pressure
Temperature
Abrasion Resistance
INCREASE PRESSURE
Our improved designs have enabled us to
increase pressures on select Aeroquip hose
styles by an average of 24% over the
competition.
INCREASE TEMPERATURE
Improvements in higher hose operating temperatures are the direct result of Eaton's advancements in rubber technology.
Eaton Aeroquip now has the highest temperature ratings compared to similar competitive products designed to meet EN specifications.
Aeroquip braided and spiral hose part numbers now meet -40°C to +127°C (-40°F to +260°F).
increase abrasion resistance
Aeroquip Dura-Tuff™ cover for better abrasion. More resistant than the traditional rubber covers.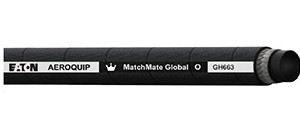 GH663 MATCHMATE GLOBAL™
Meets and exceeds:
1/2 SAE Bend Radius
SAE 100R1AT Type S, EN853 1SN
ISO 1436-1 Type 1SN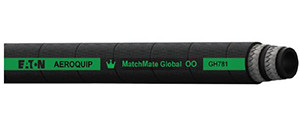 GH781 MATCHMATE GLOBAL™
Meets and exceeds:
SAE 100R16 Type S, EN857 2SC,
ISO 11237-1 Type 2SC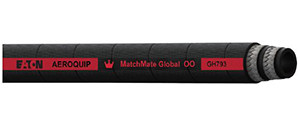 GH793 MATCHMATE GLOBAL™
Meets and exceeds:
1/2 SAE Bend Radius
SAE 100R1AT Type S,
EN853 1SN, ISO 1436-1 Type 1SN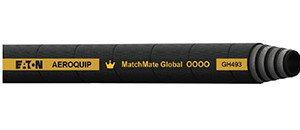 GH493 MATCHMATE GLOBAL™
Meets and exceeds:
1/2 SAE Bend Radius
SAE 100R12, EN856 Type R12,
EN856 4SP Performance (-8 thru -16)
1503 TEXTILE COVER
SAE 100R5
FC300 AQP TEXTILE COVER
Exceed SAE 100R5
FC234 AQP
High Temperature Fuel and Oil
2651 RUBBER COVER
SAE 100R5R

FC355 AQP RUBBER COVER
Engine & Airbrake
SOCKETLESS HOSES (PUSH-ON)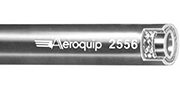 2556/2565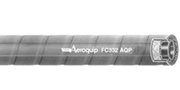 FC332 AQP
SAE 100R4 HOSES (SUCTION)
2661 AQP
FC619
Flexible 1/2 SAE Bend
SAE 100R14 TTFE HOSES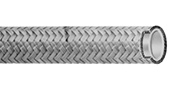 2807
PTFE
2808
PTFE